Merry Christmas!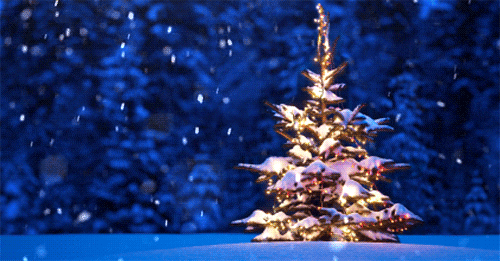 Sometimes Christmas can be super hard when you live with someone who suffers from depression. Even harder when you have no money. Add those two together & it comes out to an unpredictable, explosive combination... BUT throw in a lot of kind, thoughtful friends, family & neighbors & it may turn into a lot of unexpected tears. Tears of joy, that is!
This is the first holiday season for us living in the house we're in. I am totally used to having the holidays off & planning ahead financially for our bills. We don't have much of an income. Some would say it's impossible to live on what we do, but I'm here to tell ya, it "can" be done. I wont lie, it is difficult at times. Extremely difficult in some months. We are SUPER frugal. We're stay-at-homer's. We never go out just for fun (anywhere) & only occasionally do we get to go out to dinner. "Usually" it's if we were gifted money to go out, then we will go & sometimes we are taken out, which is a huge blessing. Sometimes, we use the money we were gifted to go out, for bills instead of going out, like for my hubby's birthday. He was given cash to go to Red Lobster, but it's not close to us & our truck needs work, so we put the money towards dinner at our favorite Chinese restaurant & our utilities instead of driving too far to dinner... About once per month, I take my sweetie to Walmart (IF we have a few dollars) & let him dig in the $5 movie bins. Our only entertainment is DVD movies. We don't have our TV hooked up to anything & even though we're online, we don't have unlimited internet. This year, I have had a lot of extra, unexpected time off of working, earlier in the year, which in turn REALLY crimped our income down to nothing, when the holidays came. No matter what I did or tried to sell, we were still short coming up with everything we needed... BUT God ALWAYS has a plan & He sends us angels, every single time. A couple of super kind & giving friends pitched in together, to send us enough money, so we could pay our rent last time. I told them I could never ask them to do that & my friend said, "You didn't ask, we offered. Please let us bless you". I cried. Such amazing friends. HUGE blessings!
Fast forward to closer to Christmas, when our old neighbor from 30 or so years ago came by with tickets for us to go hear his bluegrass group & see the Lights of Christmas & it's only five miles from our home. Yay!... So, SO kind & generous!! Their group is called "Roosevelt Road"
Seeing all of those lights is pretty awesome!
They have super fun displays.
This was when we came out
after listening to the music.
It was slightly rainy, but we enjoyed our time there.
This is me...
Our friend had even been thoughtful enough
to provide us with food dollars, so we could
eat while we were there. We had enough left
to bring home a large bag of Kettlekorn too.
Fast forward to later that week, when our friend came by & left us a huge tip for a plate of my homemade cookies. Another blessing. You just never know when God will send over another angel, but He ALWAYS has a plan... So, let me tell you about the other day... My sweetie let our dog out & she proceeded to run to the corner of our yard & greet our neighbor. Those two really love each other (Our dog & our neighbor, lol). Then the neighbor said, "I left some goodies on your front porch", so we said thank-you & got our dog back in & I went out front to retrieve the gift bag off the porch... Inside, I saw four bags of sugar (for our 7 hummingbird feeders, no doubt). We have a fabulous following with those hungry little hummers! There was also a red Christmas card envelope... I took out the envelope & opened the card, where inside it I found some gift cards. The more I read, the more my hands began to shake, as I fumbled with the contents of that card. There were 3 store gift cards, one each to QFC, Grocery Outlet & Walmart, for a hundred dollars apiece. There was also a $25 gift certificate for Del Fox Meats, which is a local butcher, where we get great deals on really good meats. Then I noticed the big one... I was shaking like a leaf by now & even my lips were quivering. I burst into full on, sobbing, with cheek-soaking tears. It was a two hundred dollar gift certificate to the PUD, which is our electric company... & I didn't even know you could get a PUD gift certificate. I was totally blubbering as I told my hubby what it was... It was incredible, that's what it was! I told my hubby how I had prayed aloud in the truck on my way home the night before, thanking God for his provision & that all of our needs would be met throughout the coming months & the very next day, He sends us angels. We haven't even known these neighbors for all that long & look how kind they are to us. It's amazing!... God has always given us the best of friends & super great neighbors. NO question. Complete angels!... I am still in complete awe of the generosity of those around us!
My family drew names for gift exchange this year. At least that makes it less costly for gift giving... I still had no extra money to give gifts, so I did the next best thing & gave a framed print of one of my lighthouse paintings & some of my homemade fudge... My niece's husband, who I had only met twice, had my name... When I was given this huge, flat gift, I peeled off the paper to reveal this magnificent, colored rooster painting, on what look to be old barn boards, with a weathered wooden frame... I immediately burst into tears. Full on, lip-quivering tears! I kid you not, this is probably the only time in my entire life (& I'm old!) that I have ever cried over a gift... I'm a huge fan of chickens. Roosters especially... AND I absolutely love color & things that are old or even just look old. This painting is a fabulous combination of a lot of things that I love & it's absolutely perfect... I'm even crying now, as I type this... I feel so, SO blessed!
I will forever be in awe of the goodness of God & ALL of the angels He has sent & continues to send... Things will be tougher than normal financially for us over these next several weeks, as my boss had open heart surgery yesterday, on Christmas Eve. He was in for nine hours, getting fixed up & I'm super thankful everything went good... Our income will be slim to none in the near future... BUT I know God has a plan & He will have us in His ever-loving hands & everything WILL all work out in the end. I have a great faith & know, without a doubt that all of our needs will be met & our bills will be paid, so I refuse to worry... With faith, you can move mountains.
Merry Christmas
& Happy New Year
I made these ads through Amazon, in order to advertise here on my blog, in an effort to help support my sweet hubby, in the manner to which he has become accustomed.
I may or may not receive a tiny percentage from some sales. Please click here
& make your purchases at Amazon.
Thank-you!
Please comment below.